Download the Presenter Guideline HERE
All presenters must be registered for the OCEANS'14 Conference; NO presentation can be made without registration.
POSTER PRESENTATION GUIDELINES:
All poster presentation should be in English
The text, figures, etc should be clear enough to be read from a distance of two meters (six feet). Color can be effective if used sparingly. It is recommended to use saturated dark color on white background, or rich, bright colors on dark backgrounds.
The usable surface where posters will be mounted is 100 cm wide x 200 cm long. It is suggested that your poster be 90 cm wide x 120 cm to 150 cm long. Your poster will be displayed vertically.
Posters can be fixed using double-sided tape. We will prepare tapes for mounting.
Audiovisual equipment will not be available for poster presentations.
Presentation Number will be placed on the upper part of each poster board.
Authors' names, affiliations and countries should be included on the poster. The title should be the same as the one in your final paper.
All posters should be brought by the presenter. Please do not send your poster by mail.
There will be NO printing facility at the conference site.
All the posters must be set-up between 17:30-18:30 on April 7 or between 08:00-09:00 on April 8.
Presenters are strongly advised to remove their posters 13:20-14:00 on April 10, or their posters will be removed and disposed.
It is our policy that the author must present the Poster Presentation in person. If this is not possible, please nominate a co-author and let us know by March 31, 2014. You or someone you nominate must present the Poster Presentation, or your Poster Presentation will not be published in the Proceedings or included in the conference program.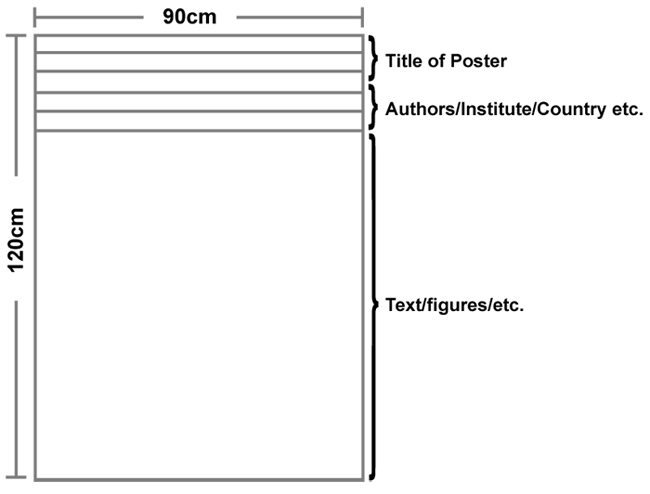 Session
Time
Set]Up
Tear]Down
Session 1
April 8 (Tue.)
13:20 - 15:00
4/7 17:30 - 18:30
4/8 08:00 - 09:00
4/10 13:20 - 14:00
Session 2
15:20 - 17:00
Session 3
April 9 (Wed.)
08:30 - 10:00
Session 4
10:30 - 12:00
Session 5
13:20 - 15:00
Session 6
15:30 - 17:00
Student Poster
Competition
April 8(Tue.)
April 9(Wed.)
13:20 - 15:30
10:00 - 10:30
ORAL PRESENTATION GUIDELINES:
Each Technical Session is consisted with maximum of 6 oral presentations.
The time allocated for each oral presentation is 17 minutes. It is requested that you present within the allotted time. Additional questions after the allotted time may be asked during the coffee break.
Please arrive at your session meeting room at least 20 minutes before the session begins.
Presentation medium: English
All oral presentations MUST be in MS PowerPoint format. Only the PowerPoint 2010 or earlier versions can be accepted.
Pictures and animation links to the Internet will NOT be accessible. Animations, video clips or sound embedded in the presentation file will not be guaranteed to function properly
To avoid time-consuming switching from one laptop to another, presenters will NOT be allowed to use their own laptops.
Please bring a back up of your presentation; just in case of unavoidable technical glitches occur.
You will be controlling/advancing the slides during your presentation.
EQUIPMENT AND ROOM SETUP
The meeting room is set up in class room style seating. Each room is equipped with a standard audiovisual package that will support an electronic presentation. The package includes:
1 Laptop (with Window 7),
1 Projector & Screen,
Microphones,
Wireless presentation remote
SPEAKERS READY ROOM
The Speaker Ready Room is in Room #106 on the 1st floor of the conference venue. Please check-in with the Speaker Ready Room and review your presentation follow the designated schedule listed below:
Session Time
Speak Ready Room
April 8 (Tue.)
13:20 - 15:00
April 8
11:30 - 13:00
15:30 - 17:00
13:00 - 15:00
April 9 (Wed.)
08:30 - 10:00
April 8
15:00 - 17:00
10:30 - 12:00
13:20 - 15:00
April 9
08:30 - 12:00
15:30 - 17:00
April 10 (Thu.)
08:30 - 10:00
April 9
13:00 - 17:00
10:30 - 12:00
13:20 - 15:00
April 10
08:30 - 12:00
SPEAKERS' BREAKFAST
Admission by vouchers only
DATE
TIME
PLACE
April 8
07:30-08:30
South Lounge
April 9
April10
North Lounge